ANTI-VIBRATION TABLE SOLUTIONS
EPOXY TOPS Anti-Vibration Table Solutions combine superior chemical resistance and physical properties with static, vibration-damping technology to provide an ideal surface for a highly calibrated apparatus. Whether a balance table or a vibration isolation top, you will have a remarkably reliable vibration prevention system. Contact your Tops Consultant to choose the right option for your project.
Product
Comparison
Balance Tables
(Anti-vibration Tables)
Vibration
Isolation Tops
Application
Stand-alone table
Can be placed on a countertop
Material
Epoxy, Marble, Epoxy or Steel Legs
Epoxy
Additional Anti-Vibration
Steel Legs support anti-vibration levelers
N/A (The bench you placed it on may have anti-vibration levelers)
Standard Size
35" x 24" (width x depth)
31" (height - epoxy & steel)
31" or 36" (height – marble)
22" x 18" (width x depth)
Countertop Thickness
2 ½" (epoxy)
3" (marble)
2 ½"
Lead Time
2 - 4 weeks
2 - 3 weeks
Investment
$$$
$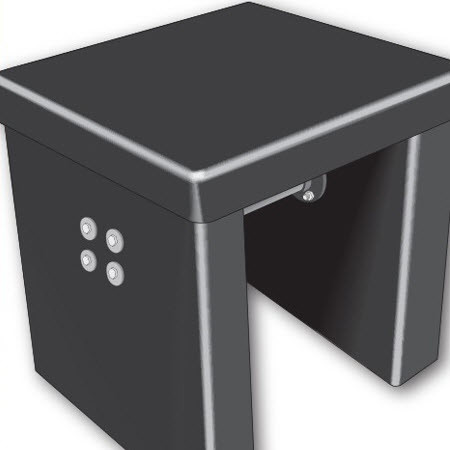 BALANCE TABLES /
ANTI-VIBRATION TABLES
EPOXY TOPS provides the most stable, anti-vibration surface for precision laboratory instruments or sensitive manufacturing/assembly equipment. Material options are epoxy or marble for our balance tables.
Epoxy resin balance tables also have the option of adding galvanized steel legs with additional anti-vibration levelers. The top and legs are solid 2 ½ " thick molded epoxy resin, and vibration reduction pads are inserted between the top and legs to further isolate the top and enhance the damping effect. Standard color for epoxy is black. Other colors are available for an additional charge.
Marble balance tables are made of cultured marble (marble stone dust and polyester resin) with 3" of thickness on the top and legs. Marble balance tables also come with 31" or 36" height. Considering its chemical resistant structure, marble balance tables are great for lab and medical environments. Standard color for marble is white.
EPOXY TOPS vibration isolation tops go over workbench tops. The Vibration Isolation Tables are best for applications where the reading accuracy of instruments is affected by unwanted vibrations, such as analytical balances, hardness testers, spectroscopes, galvanometers, profile projectors, atomic force microscopes, electronic microscopes, and atomic absorption spectrophotometers.
These 2 ½ " thick molded countertop sections with shock reduction pads perform the same function as our Balance Tables but at countertop level with easy access to adjoining work surfaces and utilities. It is made of epoxy, and our standard isotops color is black.